Allergy Association
---
While operating this Web site, Ryan Sanchez & Veronica Castellana have spoken to many people who suffer from an allergy to Latex and other allergies on a daily basis. They saw time and time again how Latex gloves are misused in the food service industry and how these establishments are not prepared to handle other food allergies. They realized that a more hands-on approach is needed to show these establishments how to handle Latex and food allergies properly. The Association for Allergy Safety & Education (AASE) was created.
From the feedback of the many people who suffer from Latex and food allergies and Ryan's food service background, a set of standards and protocol were designed for use in the food service industry. Establishments who desire to become certified through the association will have to meet a set of standards and protocol for handling Latex and food allergies. In exchange for meeting those standards, the establishment may bear the Latex Safe and Food Allergy Friendly seals, shown below.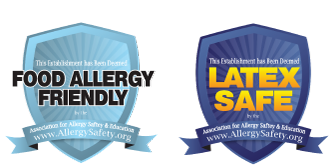 If you are an allergy sufferer, whether you suffer from Latex of food allergies, look for these seals at your favorite establishments. If those establishments are not certified and you want them to become certified, urge them to do so using our informational flyer [Click Here to View Flyer].