Common Misconceptions About Latex in Restaurants
---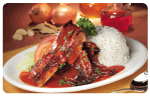 Many restaurants through the United States use Latex gloves to prep their food. There are several reasons for this. First, they don't know the law on handling food in restaurants. The law in most states says that ready-to-eat foods cannot be handled with bare hands. However, most chefs and restaurant management think that the law says that gloves have to be used for food handling. Another reason is most restaurants don't know the difference between latex gloves and other types of gloves. Most people think that Latex gloves are the same as Vinyl gloves, Poly gloves, Nitrile gloves or any other type of glove. The truth is, Latex gloves are only supposed to be used in the medical field when handling blood borne pathogens. When used in a restaurant setting the Latex proteins break down quicker because of their exposure to water and heat. If restaurant managers knew the difference between the different types of gloves, they would know that Latex gloves are not the best choice for that type of usage. By using Latex in their restaurant, they put their employees and patrons at risk. Employees who become allergic to latex may also file for workers comp which can cost the company more money and even progress to lawsuits. Latex gloves are more expensive than Vinyl or Plastic gloves. Latex gloves have been linked to fires. When certain conditions are reached, some properties in the gloves have been known to cause combustion (Article 1, Article 2).
Facts About Latex in Restaurants
---
Latex proteins are transferred to almost any surface that is contacted by natural rubber latex gloves.1,2

Moisture on the contact surface will enhance the transfer for Latex proteins to that surface.1,2
Based on these facts above that were published in the sited medical journal, the Latex proteins can be distributed throughout a kitchen without the knowledge of the staff or management. Therefore, it becomes evident that this Natural Rubber Latex Allergen can easily contaminate an entire kitchen. Foods that come in contact with surfaces previously touched by Latex gloves become contaminated as well.
| | |
| --- | --- |
| 1. | Beezhold DH, Kostyal DA, Wiseman JS. The transfer of protein allergens from latex gloves. A study of influencing factors. AORN 59:605-614, 1994 |
| 2. | Beezhold D, Reschke J, Allen J, Kostyal D, Sussman G. Latex protein: A hidden food allergen? Allergy Asthma Proceedings 21:301-306, 2000. |
What the FDA Food Handling Code Says About Glove Use
---
A common misconception about food handling in restaurants is that Latex gloves are required when handling all foods. In reality, the FDA's Food Handling Code does not require that gloves be used. It simply offers gloves as an option to prevent cross-contamination in read-to-eat foods. Other options for these situations include tissue, spatulas, tongs, or dispensing equipment. The FDA is perfectly fine with using bare hands in situations where ready-to-eat foods are not involved; as long as proper hand washing procedures are followed. Additionally, where the code mentions gloves as a possible option for handling food, it does not specify a type of glove. Therefore, those who restaurateurs who say that Latex gloves are required by the food handling code are misinformed.
The FDA Acknowledges Latex as an Allergen
---
| | | |
| --- | --- | --- |
| The FDA updated their Food Code in 2013. Updates to the Food Code include a comprehensive section that details the dangers of using Natural Rubber Latex gloves in food prep. Below are some excerpts related to Latex glove use. | | |
How to Check if a Restaurant is Safe
---

If you are allergic to Latex and are going to eat at a restaurant, the best thing to do is to have them show you the box of gloves that they use. You cannot trust most people when you just ask because most people associate Latex with every type of glove. If Latex is used in that restaurant, DO NOT EAT THERE! Latex gloves are made out of a tree sap and the Latex proteins are very sticky like that tree sap. The latex particles not only stick to food, but also countertops, utensils, dishes, pots, pans, and any other surface they make contact with. If they have Latex in their kitchen anywhere, consider it contaminated. It will often take several cleanings to sterilize the kitchen of all the Latex particles. If they offer to try to make food without Latex, DON'T LET THEM TRY! They most likely don't know enough about it to keep your food from touching it and you will still get a reaction if you are allergic. Let them know that if they want to help, they can switch away from Latex gloves and use Vinyl or Plastic gloves.
Important: If you find a restaurant that does not use Latex gloves to prep their food, you still may want to be weary of the bread, salad and deserts. Many restaurants purchase their bread from other bakeries who may use Latex gloves. To prevent reactions, it is best to avoid any bread you find in restaurants unless the latex free restaurant makes their own bread. Some restaurants also purchase pre-made salad. That means the salad was cut and tossed in some place other than that restaurant. If they buy whole heads of lettuce and cut it themselves, for example, the salad will usually be fine.
Report a Restaurant and Make Them Change
---

Are you allergic to Latex and get reactions whenever you eat at a restaurant? Do you want to do your part in making the entire foodservice industry Latex Free so that you can eat without fear? Download and print out copies of the Latex Warning to the right and issue them to any restaurant you find using Latex when preparing their food. Use the "How to Check if a restaurant is Safe" section above to see what types of gloves they use and issue a citation. Once the citation is issued, contact us to have them added to the "Contaminated Restaurants" list. Plus, it will be fun to make a difference and to see the looks on their faces! You don't have to be allergic to join in on the movement. Download the warning and start the hunt for Latex gloves in restaurants.
Latex Free Areas
---
There are currently four main areas that have banned the use of Latex gloves in their foodservice industries. Anyone allergic or sensitive to latex should be safe at almost any restaurant in these states. These areas are:
•Arizona •Oregon •Boston •Rhode Island
Any restaurant, establishment or company found using Latex gloves during their food preparation will be fined by the local health department. Why are these the only area? Ask your state's Department of Health to find out why. Obviously, there is a good reason if three states banned them completely. Why haven't the others followed their examples?
Latex Free Restaurants
---

DISCLAIMER: The list below is kept as up-to-date as possible. However, some larger chain restaurant locations may not be in adherence to the corporate standards of that company. It is always best to check before eating to prevent any reactions. The purpose of the list below is not to slander any company or establishment. The purpose is of the list is to inform those who are allergic to Latex where they can eat without having to worry about a life-threatening allergic reaction. LatexAllergyInfo.com takes no responsibility for any consequences that result from this list. To be safe, please follow the guidelines above to check each restaurant before eating.
Some Latex Free Restaurants

---

NATIONWIDE:

•

Maggiano's Little Italy

•

Macaroni Grill

•

Chili's

•

Outback Steakhouse

•

Bonefish Grill

•

Carrabba's

•

Steak & Ale

•

Moe's

•

Chic-Fil-A

•

Chipotle

•

Subway

•

Steak & Shake

•

McDonald's

•

Burger King

•

Taco Bell

•

Publix Deli's

•

Hillstone

•

Houston's

•

Gulfstream

•

Bandera

•

Palm Beach Grill

•

Cherry Creek Grill

•

Los Altos Grill

•

Corner Bakery Cafe

•

Safeway Deli's

•

Wendy's

•

Panera Bread

•

In-N-Out Burger

•

Besito

•

Del Frisco's Grille

CHICAGO, IL:

•

Big Bowl - Chicago

•

Signature Room

•

Giordano's

•

Eataly

Tampa, FL:

•

Piquant

•

The Tampa Club

•

The Centre Club

•

Fresh

•

Moxie's Downtown

•

La Tropicana

•

Caffe Paradiso

•

Ducky's

•

Anise Gloabl Gastrobar

•

La Crapaeria

•

Hablo Taco

•

Square One Burgers

St.Petersburg, FL:

•

Locale Market

Napa Valley, CA:

•

Rutherford Grill

•

Don Giovanni's

•

Gott's Roadside

•

Culinary Institute fo America

New York, NY:

•

Eataly

•

Citi Feild

•

Yankee Stadium

•

Wildwood

•

Primehouse

•

Ocean Grill

•

Kibo

•

Dos Caminos

•

Blue Water Grill

•

Blue Fin

•

Bill's Bar & Burger

•

BR Guest Restaurants

•

Strip House

•

Atlantic Grill

•

Lilli and Loo's Asian Cuisine & Sushi

•

Josie's Restaurant

•

Pala Pizza

•

Bistango Ristorante

•

Pax

•

Metro Cafe

•

Ruthy Foos

•

Grotta Azzurra

New Jersey

•

Honan Chinese Food

•

Caengdu Chinese Food

•

Gotham City Diner

Louisville, KY:

•

Cumberland Brews - Microbrewery & Restaurant

Las Vegas, NV:

•

Cafe Bellagio

•

Michael Mina

•

Lago

•

Bellagio Buffet

•

Harvest at Bellagio

•

Snack at Bellagio

•

Bellagio Room & Poolside Service

•

Jasmine at Bellagio

•

Noodles at Bellagio

•

Prime at Bellagio

•

Jean Philippe Patisserie

•

All Restaurants at the Wynn & Encore Hotels

•

LVB Burgers and Bar at the Mirage

Contaminated Restaurants

---

NATIONWIDE:

•

Various Restaurants on Disney Properties

•

Ri Ra Irish Pub

•

deSha's

•

Nicholson's Tavern & Pub

•

The Polo Grille

•

Eddie Merlot's

•

The Pub

•

Cheesecake Factory

•

Most Marriott Restaurants

•

Most Hard Rock Restaurants

•

Most Hilton Restaurants

•

Most Hyatt Restaurants

•

Most Ritz Carlton Restaurants

•

Morton's Steakhouse

•

Ruby Tuesday

•

Village Inn

•

Denny's

•

Perkin's

•

Rainforest Cafe

•

Joe's Crab Shack

•

Bubba Gump Shrimp Company

•

Johnny Rocket's

•

On the Border

•

Buca De Beppo

•

Brick House Tavern & Tap

•

Palm Restaurant

•

Houlihan's

•

Lawry's Restaurants

•

Texas De Brazil

New York, NY:

•

The Plaza Hotel !

•

The Palace Hotel

•

Sardi's

•

Carmine's

•

El Sombrero

•

Koi

CHICAGO, IL:

•

Carmine's

•

Tavern on Rush

TAMPA, FL:

•

District Tavern

•

Carne Chophouse

•

Hamburger Mary

•

Green Iguana

•

Carmine's in Ybor City

•

Catering by the Family

•

Vizcaya Restaurante

•

Stone Chef Events and Catering

•

Rolling Oats Market

•

Stacked Burgers

•

Gallery Bistro

•

Malio's Steakhouse

•

Cappacino on the Go

•

Las Vegas Sports Bar

•

Grillsmith

•

Burn's Steakhouse

•

Jackson's Bistro

•

Algusto's Mexican Restaurant

•

Estella's

•

Hattrick's Sports Bar

•

Valencia Gardens

•

Caprice Bistro

•

717 South

•

Kalupa's Bakery

St. Petersburg, FL:

•

Stillwater Tavern

•

Bella Brava

•

Tryst

Napa Valley, CA:

•

Mustards

•

Silverado Brewing Co.

•

Brix

•

Red Hen Cantina

•

Most other restaurants in the Napa Valley area

San Francisco, CA:

•

Ghirardelli Chocolates

•

Teirnan's

Destin, FL:

•

Crab Trap

•

Harry T's
!
Denotes that the Establishment was rude or confrontational when approached
Restaurant List Updates: The restaurant information above was updated on August 2, 2016. If you would like to get your restaurant added to the Latex Free list, contact us at 813-810-0106. If you have been deemed a Latex-Free restaurant, random checks will be done to verify your adherence.